Pre-order now! Coming March 9, 2018
Get Virtual Grunt from your local bookstore and wherever ebooks are sold.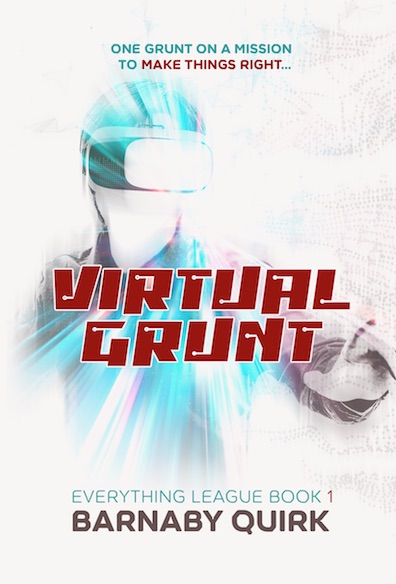 A virtual tournament. A rigged game. One grunt on a mission to make things right…
Thirteen-year-old Bobby Thomas knows the $50 million Everything League grand prize is way out of his reach. Without his own VR rig at home, his game time is limited to library hours. Plus, the contest only awards players…not virtual grunts like him. But a change in the rules could finally give Bobby a chance to shine…
Charged with keeping the competitors on their toes, Bobby and an army of AIs offer a challenge to the human players. But as the expert grunt rises in the ranks, he begins to suspect that the competition is rigged. When the dangers of the virtual world start to rub off on reality, Bobby must unmask the cheater before he and his friends suffer a real-life game over…
Virtual Grunt is a middle-grade sci-fi novel that takes gaming to the next level. If you and your children like fast-paced action, futuristic gaming, and heroic underdogs, then you'll love Barnaby Quirk's virtual adventure.
Buy Virtual Grunt to boot up a fun thrill-ride today!